INDEXED I/O NEW SUPER FEATURE RELEASE
One-Click Foreign Language Translation, more predictable Daily Hosting Rates (no more monthly commitments and only pay for the time you need!), and awesome Easy Document Search Enhancements…just to name a few of the recent updates made to Indexed I/O!
New Feature List
The below is a high-level list of Indexed I/O's newest capabilities. If you have any questions or want a full demo of these new features in action, please don't hesitate to contact us at support@indexed.io or call 888-804-0709.
Release: 
Translate over 100 foreign languages to English with just a click.
Daily Hosting model, allows more predictable billing, easier project management, and eliminates hosting minimums.
Complete project metrics for quick tracking and reference.
Email Collector now 1000 times faster!
Even more enhancements to our Advanced Search making it even easier to find your important documents.
Quick Bar search validation to ensure accuracy.
Expansion of Table View features.
Exception file handling workflows.
API Search notifications.
Prior Releases: 
Dual Monitor document review support
Keyword Search Highlighting focuses users to key parts of their document for quicker and easier document review.
Document Review iPad app is free to all Indexed I/O users and lets you review, redact, and tag project documents.
One-click project status (Activate, Hibernate, Purge) gives you complete control over your project and data.
'Table View' allows you to view records in a grid view with sorting, filtering, and other table customization options
Administrative control over project status, including the ability to 'Purge', 'Hibernate' or 'Activate' projects
Search options for user/reviewer notes
Additional fields available in export metadata load file wizard
Export container items via tag set
Track export owner/creator and other metrics
Export complete notifications
More options on load file customization wizard
"How To" video library
Speed and efficiency enhancements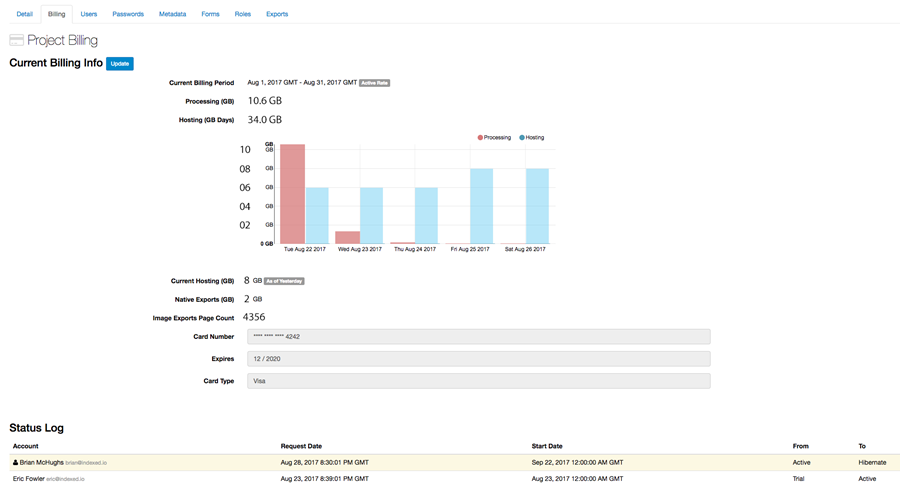 (Project Metrics Interface)
Do you need eDiscovery solutions?
With an easy and intuitive interface, legal teams can quickly learn and utilize Indexed I/O in a matter of minutes. With no software or hardware to purchase, a 'pay for what you need' model, and no-long term restrictive contracts, Indexed I/O is by far the fastest, easiest to use, and cost effective e-Discovery solution on the planet.
 The Colorado Bar Association and Indexed I/O make electronic discovery easy.
---
Fill out the form below to instantly access the Indexed I/O solution and try it for yourself.